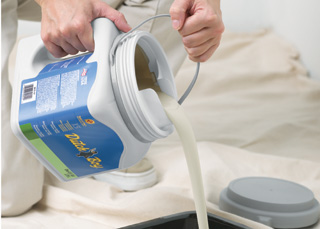 Client: The Sherwin-Williams Co.
Plastic paint container with screw off and on lid that replaces the metal paint can that has not changed in 100 years. Design features include, ergonomic side handle, 'lug' lip for drip-free pouring and double bail and slide for easy carrying and pouring control. Square design allows more information to be put on front of paint container.
"At long last! Untold hours of toil and frustration and mess for well over 50 years have finally resulted in one of the most sane design solutions to reach the average home owner and apartment dweller. This package is recyclable, easy to pour and a dream to close." -Louis Nelson, IDSA, President, Louis Nelson Associates Inc.
Contact: John Nottingham,
IDSA and John Spirk,
Nottingham-Spirk Design Assoc.
216.231.7830
jnottingham@ns-design.com
Credit: Nottingham-Spirk Design Assoc.