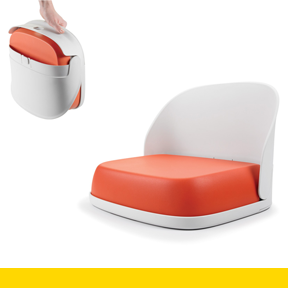 Parents and kids alike desire a smooth transition from high chair to booster seat to big chair. This was OXO's goal in designing a new booster seat. The extensive user testing showed that some kids have trouble keeping their balance in standard booster seats and are prone to falling backward. The booster needed to be portable to accommodate today's on-the-go lifestyles. It also needed to fit in with any household environment. With the Tot Seedling Youth Booster Seat, OXO has extended universal design to the youngest generation with a foldable, portable booster seat that meets the needs of both kids and parents.
With the help of a comfortable three-cushioned seat, the OXO Tot Seedling Youth Booster Seat positions children three and up at the perfect height to join the family at the table. Since the Booster allows them to sit toward the chair's front edge—their natural inclination—meals are now within reach and little legs can dangle comfortably over the cushion's rounded front edge. With a mid-century modern aesthetic, it complements most households, fitting seamlessly into any kitchen or dining room environment.
Whether the family is headed to Grandma's or a local restaurant, the Booster folds into itself, creating a compact plastic container. It is easy to carry by its integrated handle. The Booster backrest stays securely open by locking into place; it collapses in an instant with the push of a button. It even stands on its side for easy storage and is scaled perfectly for a diaper bag or large purse.
The Booster's backrest supports toddlers in any position on any type of dining chair. Secure grips on the bottom of the Booster keep the child safe and the seat in place. The removable crevice-free soft-skin urethane cushion was designed to facilitate cleaning; it is resistant to spills and is a cinch to wipe down. BPA-, Phthalate- and PVC-free, the OXO Tot Seedling Youth Booster Seat keeps everyone—especially children—safe and healthy.
Credits: Smart Design: Brook Kennedy, Colin Kelly, Charlie Paradise, Steven Vordenberg and Gina Gargiulo
Corporate Sponsor: OXO
Contact: Mercedes Coats: mercedes.coats@smartdesignworldwide.com