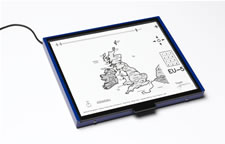 The Talking Tactile Tablet system allows visually impaired individuals to access graphic imagery they otherwise would not be able to enjoy. Instead of using Braille, which the majority of visually impaired people do not read, users hear audio descriptions of each component of an image. Key considerations of the design were ease-of-use, ruggedness, cost and providing a pleasing aesthetic experience, namely how the product feels. The device was kept simple: only one moving part (the hinged frame that holds the tactile sheets in place) and no buttons, switches or even plugs. Although designers did not face the typical visual-centric concerns, the product acquired a kind of Zen-like simplicity normally associated with minimalist high-end design. As the population ages and the number of visually impaired people skyrockets, this system will fill a significant gap in the arsenal of assistive technologies.
"…opens up an entirely new world for the visually impaired."--Donald Norman, IDSA, co-founder, Nielsen Norman Group
Contact: Steven Landau
Touch Graphics, Inc.
212-375-6341
sl@touchgraphics.com
Credit: Touch Graphics, Inc.
Client: