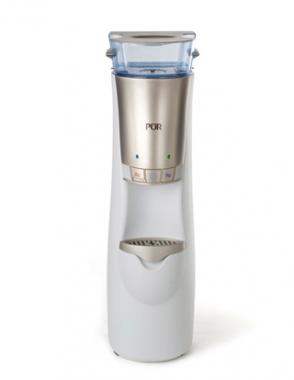 Client: Kaz, Inc.
PUR has taken the charcoal filtering technology found in their refrigerator pitchers and placed it in a full-sized water cooler. The design offers tremendous user benefits. For instance, instead of unsightly five-gallon containers that are difficult to hoist onto the cooler, PUR's three-gallon water reservoir (which is filled by the user with tap water) has a rectangular shape with handles on each side for easier lifting. And since the cooler sits lower than most units, the height to which the water needs to be lifted is significantly reduced.
By integrating the water filtering technology directly into the dispenser, the designers have enabled consumers to eliminate monthly fees for water delivery. The unit is also owned, not rented, providing addition cost savings. The cooler's appearance breaks away from traditional water coolers and attempts to blend with a home's high-end appliances using a minimalist form and details and elegant proportions.
Contact: Heather Andrus,
Altitude, Inc, USA,
617 623 7600 x 246,
h_andrus@altitudeinc.com
Credit: Altitude, Inc; Kaz, Inc.