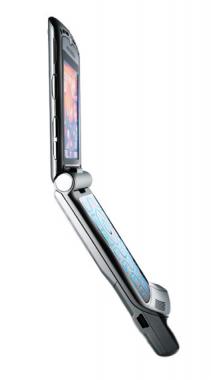 The goal of this project was to design the thinnest mobile phone with no compromise to functionality. In order to manifest a design that would appeal to early adopters, tech enthusiasts and trendsetters, the designers needed to blur the boundaries between technology and design. Unlike typical plastic cell phones, the Razr V3 is comprised largely of metal, thus offering greater durability and a cutting-edge aesthetic.
In addition to the phone's innovative space-saving engineering, the design team developed an internal antenna that has proven to be the most powerful one in the company's mobile phone portfolio. The Razr V3 has asserted itself as the ultimate communications tool, greatly exceeding sales expectations.
"This design solution not only looks great and feels great, it personifies a level of elegance achievable when designers are committed to thinking 'outside the box.' In this case an ultra-slim form profile made possible, in great part, by developing a thin laser-etched copper-alloy keypad in place of conventional keybuttons. A remarkable job of compaction and space utilization without compromising either performance or a full array of leading-edge functions and features." -J. Budd Steinhilber, FIDSA
Contact: Christi Hardin,
Hill & Knowlton, Public Relations Agency for Motorola, USA,
310.633.9425,
christi.hardin@hillandknowlton.com
Credit: Motorola, Inc.