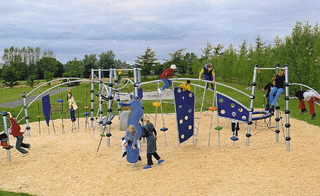 Client: Kompan, A/S, Denmark
A functional and well thought out use of space makes the GALAXY playground equipment a challenge for six to 12-year-olds. The open approach of the unit gives access to everyone at the same time and brings all children into the center of the play. GALAXY is made of a mixture of steel, dark-colored plastic and rubber.
Contact: Lani K. Wollwage, IDSA,
Kompan Inc.,
(360)943-6374;
lanwol@kompan.com
Credit: Kompan, A/S, Denmark and Kompan Inc., U.S.