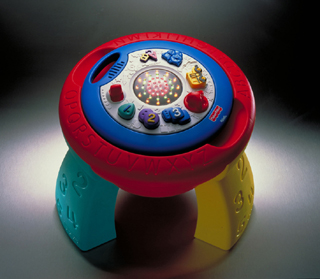 Client: Fisher-Price Inc.
With entertaining games and a round shape for easy accessibility, the Fisher-Price/Microsoft Intelli-Table is a fun, interactive toy for infants and toddlers from nine to 36 months old. The table has one central illuminated LED array saucer and three interactive, interchangeable rings. The play rings incorporate mechanical sliders, spinners and push buttons.
Contact: Carl Ledbetter, IDSA,
Microsoft Corp.,
(425)706-9408;
carll@microsoft.com
Credit: Microsoft Corp. and Fisher-Price Inc.