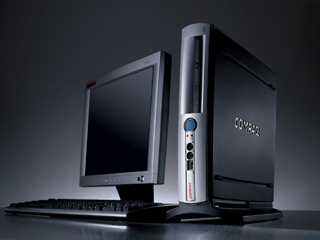 Compaq really focused on the consumer with a design form that shows restraint and nice detail and finish work. The Compaq Evo E500 Ultra-slim Desktop can be oriented as a tower or a desktop. Despite its small size (up to 75 percent smaller than traditional desktops), the computer has an array of features, including: hot-swappable drives compatible with select Compaq notebooks, an optional wireless connectivity module and legacy free IO connectors with an optional legacy module.
Contact: Paul L. Drew, IDSA,
Compaq Computer Corp.,
(281)514-9750;
paul.drew@compaq.com
Credit: Compaq Computer Corp.