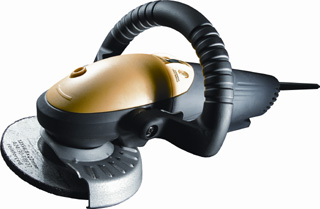 Client: Demain International Pty Ltd, Australia
The novel styling of this product stands out in an already crowded market. A unique rotating head gives the user the opportunity to alter the configuration to assist in handling awkward and potentially hazardous positions. The "D-Handle" offers full-time left or right hand operability. Safety features include a deliberate programmed sequence for start-up with multiple indicator lights and switches, and a paddle switch that must be held during operation and cuts off power if the device is dropped.
Rotating head allows maximum access in all types of grinding situations.
The product is intended for Do-It-Yourself market.
It has a space age look.
Contact: Michael Samootin,
Bayly Design, Australia
+61.3.9894.2622,
m.samootin@bdaglobal.net
Credit: Bayly Design, Australia