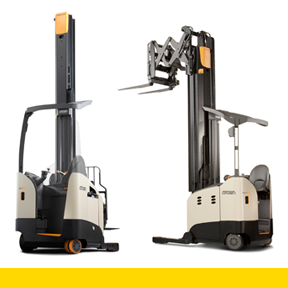 The Crown RM 6000S MonoLift™ reach truck delivers breakthrough operator visibility and unsurpassed lifting capabilities—taking loads higher than ever before. Used in warehouses and distribution centers to store and retrieve pallets of inventoried goods, the RM 6000S allows racks to be constructed higher, increasing the number of pallets up to 30 percent.
The innovation centers on the MonoLift™ mast, a single-column mast design that provides unprecedented strength and a clear view to the warehouse environment. All competitive reach trucks worldwide use conventional twin column masts with shorter lift-height capabilities that limit warehouse operations. The RM 6000S provides operators the flexibility to sit, lean or stand, creating a more comfortable, less fatiguing experience that delivers greater operator, truck and operation-wide productivity.
The challenge was to balance two goals that were seemingly at odds: For the operator, make the width of mast as small and unobtrusive as possible for unparalleled visibility to the warehouse environment. For the customer's business, make the mast stronger to lift heavier loads higher than any other reach truck.
Success required close collaboration between design and engineering team members to define the mast's lifting capabilities and integrate that solution into an updated truck chassis. To determine the true market potential, the team sought to understand operator benefits and validate the impact of the value propositions on the customer's business. Extensive field-testing was used to quantify the value and establish a customer's potential return on investment. Subsequently, gaining acceptance from operators and companies currently using competitive trucks was another significant challenge and a key business mandate.
The most challenging reach truck task involves aligning the forks to a 3.5-inch tall pallet opening that is 42 feet above the floor. The RM 6000 makes this task easier with enhanced visibility and greater truck stability, improving operator confidence and productivity as well as reducing the risk of damage to product, racks and truck.
The RM 6000 runs 25 percent longer between recharging and lifts up to 30 percent higher and 1,000 pounds more than other reach trucks without growing the truck's physical size or footprint. A reach truck is no longer the limiting factor in warehouse operations because going higher no longer means using larger trucks with reduced capacity in wider warehouse aisles. Operations managers gain the flexibility of placing heavy loads at almost any height in the racks, simplifying warehouse logistics and maximizing space utilization. New warehouses can be built taller with denser aisles, saving capital investment—it's less costly to build up versus out.
The RM 6000 has exceeded expectations. In less than one year, sales have doubled original projections and businesses that were once brand loyal to competitors have switched to Crown.
Credits: Crown Equipment Corporation: Mike Gallagher, Roger Quinlan, Adam Ruppert, Phil Swift, Jim Kraimer, Craig Rekow and Ben Purrenhage (Tekna Inc.), Eric Hanson (Caterpillar Inc.) and Robert Henshaw (Formation Design) and the Lextant Group
Contact: Adam Ruppert: adam.ruppert@crown.com