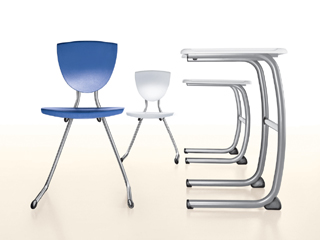 Client: KI
An exciting design for the traditionally unexciting educational furniture market, the KI Einstein line improves student performance by providing comfort, proper support and functionality. Chairs and desks are made in four sizes for use from preschoolers to adults. The modular units can be easily moved to enhance learning and are made of super tough materials to last at least 15 years.
"Simple direct classroom furniture that would appear to take any amount of abuse. Its robust construction is cleverly unified with its visual qualities." - Niels Diffrient, FIDSA
Contact: Kent Ritzel, IDSA,
Metaphase Design Group, Inc.,
(314)721-0700 x 147;
kent@metaphase.com
Credit: KI and Metaphase Design Group, Inc.