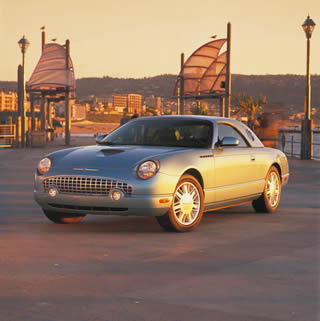 Ford made a design statement from a styling lineage that is all their own. An excellent example of design heritage, Ford created a contemporary expression of the Thunderbird essence, using a modern rendition of the shape and legacy styling cues of the classic 1955-57 Thunderbird, including making the new T-bird a two-seat convertible roadster with an optional removable top with porthole windows.
"The new Thunderbird represents a striking use of a Ford company theme. A fresh, new and pleasing aesthetic, without the aggressive gesture and overt dynamics usually associated with the sporty automobile segment." - Thomas Gale, IDSA
Contact: Wayne K. Li, IDSA,
Ford Motor Co.,
(313)322-0431;
wli3@ford.com
Credit: Ford Motor Co.