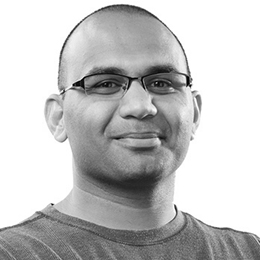 Amrish Chourasia, PhD
Human Factors Engineer, Delve
Amrish brings a strong multi-disciplinary qualitative and quantitative research background to user centered design. Throughout his undergraduate and graduate education, he combined coursework in physiology, psychology and engineering to understand human-machine interaction from diverse perspectives. 
Amrish has worked on a wide range of projects including medical device design, power hand tool design, touch screen usability, personalized digital interfaces, etc. and is highly conversant in laboratory and field research techniques. Amrish has also taught courses in Human Factors and Ergonomics at the University of Wisconsin-Madison. Amrish's background enables him to effectively serve as a bridge within multi-disciplinary teams. He strives to balance the demands of being a user advocate with the needs and requirements of other stakeholders on project teams to ensure success of the project.   
Educational Background
University of Wisconsin (Madison, WI)
PhD – Biomedical Engineering
MS – Industrial Engineering (Human Factors and Ergonomics)
University of Pune (Pune, India)
Bachelor of Engineering – Instrumentation and Control Engineering
Professional Affiliations
Member of the Human Factors and Ergonomic Society (HFES)
Member of the Association for the Advancement of Medical Instrumentation (AAMI)
Frequent guest lecturer at UW-Madison for the College of Engineering