Wednesday, July 28, 2021
All times are Eastern Daylight Time (EDT)
11:10 am
From Design Student to Design Researcher and Entrepreneur
Reneé Seward | University of Cincinnati
Reneé will share her journey from graphic design student to design researcher and entrepreneur. She began her journey not being accepted into design school to graduating Summa Cum Laude and second in her graduating class to doing professional design work for companies like Nickelodeon, Target, and Bath & Body Works. She faced many successes and challenges along the way, which led her to pivot to graduate school, seeking to get into a form of design that allowed for more service and social impact. Developing collaborations with educators, educational psychologists, and computer scientists, Renee and her team are creating educational tools that help create the skill and will to read, one person at a time.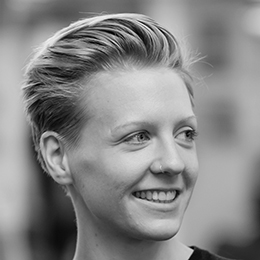 11:50 am
Why I Started My Own Agency
Jo Barnard | Morrama
Entering into the design industry after graduating, I took a position as the only female designing in a team of 20+ men. It's only 8 years on that I realise how much this experience affected my decision to start my own agency, how the all-male environment shaped my view on the industry, and what I felt I could do better by going it alone.
Since starting Morrama I've worked with over 100 startups, from small 'mom and pop' brands to some of the fastest-growing UK companies. Join me to find out why I believe being a female-led design consultancy has been a key part of our success and get an insight into my journey as a female founder.
12:30 pm
Creativity In Business: The Power and Value of New Ideas
Jacquelyn DeJesu Center | DEEJAYZOO
My session is about the POWER of a truly disruptive idea and the value of creating new products—especially when they're protected by patents or other intellectual property laws. These learnings will be shared through the story of my multi-million dollar, globally distributed, self-funded, and patented hero invention, SHHHOWERCAP, which has been described as "the genius innovation that only a woman could make." - ELLE Magazine
---
Break ------------------------ 1:10 - 1:30 pm ------------------------ Break
---
1:30 pm (breakout A)
Activism through Design
Ti Chang, IDSA | CRAVE
The world is changing. We are moving towards a more equitable and just world and it starts with the actions of ordinary people like you and me. Learn the framework of design activism to apply to your own work to influence people and help humanity through products and experiences.
1:30 pm (breakout B)
Permission to Speak: Unlocking the Power of Your Personal Voice
LaDonna Witmer | Writer
For many of us, finding our true voice can be daunting. We've been conditioned by our culture— and sometimes by our own families—to fade into the background, to silence ourselves. "Permission to Speak" is a talk about breaking through that silence. Not about polishing a glossy façade, but about digging deep into the core of who you are and what you care about so you can unleash the power of your own voice. Because there is a story inside you that no one else can tell. It's time to set it free.
1:30 pm (breakout C)
The UX Mindset: How UX works with ID to Define and Create Products with Purpose
Darcy DiNucci | Ammunition
A UX pioneer, Darcy has spent decades collaborating with designers and business leaders to create products that define new categories and establish emerging technologies with millions of people. From understanding what's worth designing in the first place to putting herself in the minds of users that don't exist yet, Darcy will discuss the role of UX in designing the customer experience to better inform design teams as they seek to create products with purpose. Through examples from Ammunition's work, Darcy will delve into the UX process and its role in framing design problems, developing a point of view about user needs, and using storytelling to help product design teams create product experiences that matter.
This session is sponsored by Ammunition.
2:30 pm
The Intersection of Passion, Business & Design Education = Purpose
Cheresse Thornhill | adidas
Designers at various stages in their careers struggle to continue to find purpose in the products or systems they create season in and season out. Albert Pine penned, "What we do for ourselves alone dies with us; what we have done for others and the world remains and is immortal." Therefore, the wellspring of fulfillment and longevity exists at the intersection of our passion, purpose that benefits others and innovative approaches to business objectives. Cheresse will discuss the fulfillment she's achieved at this intersection, how she's part of the team that's transforming the footwear design industry and cultivating the next generation of diverse design talent.
3:10 pm
Day 1 Speaker Q&A Roundtable
Live Q&A session with Day 1 speakers. Don't miss your chance to ask them questions!
5:00 pm
Happy Hour!
Join in with your beverage of choice for networking and fun.
---
Thursday, July 29, 2021
All times are Eastern Daylight Time (EDT)
11:10 am
Design the Life + Work You Love, As a Woman Designer
Ayse Birsel | Designer and Author
You have probably sat in or held something in your hand that I have designed for brands like Amazon, Herman Miller, Toyota or Target. I took the patterns that emerged from across industries and developed an accessible and now well-proven design process: Deconstruction:Reconstruction™. This is the red thread across all of my design studio's corporate product design, innovation, and brand work. I also applied this process to life, which I believe is the ultimate design project.
For the longest time, I believed it didn't matter whether I was a woman or a man. I was a designer. But now, as a woman co-founder, and with an amazing team of women designers and collaborators, I believe in female leaders supporting and creating with, and for, other women. And that's what I will talk about.
11:50 am
Path to Purposeful Design
Dominique Mueller | Target
Dominique will share her backstory and the lived experiences that have swayed the choices she has made in her design career and ultimately shaped her design philosophy. She will share how social economic constraints, racism, and intentional connections can lead to an understanding of shared place and common purpose. No matter what your positionality, it's about what you make possible for others. We all have a part in evolving a design practice that sees in community a method of discovery and a measure of impact.
12:30 am
Resilience - What a Concept!
Monica Weiler | Stratos Innovation Group
For the last year or so, the idea of resilience has frequently emerged because of how COVID has impacted our lives, our teams, our businesses and our communities. While a very core systems-thinking principle, resilience as a concept has not been extensively discussed in the design community in a practical way. I will look at the application of the concept of resilience at three levels: personal, for team and for organizations. We will look at how the concept of resilience has evolved over time and show many examples of how it can be applied to design practices at these three levels.
---
Break ------------------------ 1:10 - 1:30 pm ------------------------ Break
---
1:30 pm (breakout A)
Designing the Future of Humanity
Phnam Bagley | Nonfiction
Designing the future of humanity will greatly depend on how we interconnect science, technology, art, and design. With her multi-disciplinary team at Nonfiction, Phnam is redefining the impact designers have on the world, on and off planet. Designers have the power to evolve the way we treat our youth (education) and our communities (smart cities, healthcare). They can also help conserve culture (fabrication techniques, rituals) and prepare humans for the future of space exploration (sustainable living).
1:30 pm (breakout B)
Mother of Invention: How Good Ideas Get Ignored in an Economy Built For Men
Katrine Marçal | Author
Why didn't we get wheels on suitcases until 1972? Why were electric cars considered "feminine" when they first arrived more than 100 years ago? How come a bra making company created the suit Neil Armstrong wore to the moon?
In this talk, Katrine leads audiences through fascinating examples of how innovators have failed to take women's experiences into account, analysing what they can tell us about women and innovation today. She examines current realms where our ideas about gender are holding innovation back in similar ways, making the argument that the future will be shaped by companies that dare to think differently about gender.
1:30 pm (breakout C)
Discussion on Closing the Gender Gap Through Design
Başak Altan, IDSA | Design Strategist
"When women are involved in decision-making, in research, in knowledge production, women do not get forgotten. Female lives and perspectives are brought out of the shadows. This is to the benefit of women everywhere ... and it is often to the benefit of humanity as a whole." - Caroline Criado Perez, Invisible Women: Data Bias in a World Designed for Men
Join us for a discussion of Perez's book, reflecting on your experiences as designers and where you see opportunities for improvement and growth in your profession to close the representation gap.
2:30 pm
Design: Leadership Is Not an Accidental Practice
Frances Bronet | Pratt Institute
Frances Bronet's academic career trajectory looks linear, from assistant professor to President. Her professional life began deep in architecture and design practice. A lifetime of experiments in unfamiliar communities of employment, friends, cities and colleagues created a set of unpredictable ecosystems. Student leadership to community engagement, engineering to dance, architecture to disability studies—these overlaps were strategically planned to allow for both the serendipitous and the likely. Bronet will talk about crafting a malleable trajectory for a design career, using specific examples from both her career and her personal life.
3:10 pm
Day 2 Speaker Q&A Roundtable
Live Q&A session with Day 2 speakers. Don't miss your chance to ask them questions!