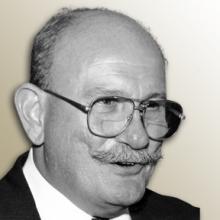 James M Ryan
IDSA President:1995–1996
Prior to collaborating with ECCO Design, Jim spent 36 years with Henry Dreyfuss Associates, the noted transportation design consultancy where he retired as senior partner. He has led design programs for many business jet interiors including Gulfstreams, Falcon Jets, and the new very light Honda Jet. He has designed American Airlines fleet interiors, Amtrak intercity rail, New Jersey Transit, Long Island Rail Road and Metro-North commuter rail and New York City subway interiors.
Dreyfuss clients for whom Jim has had major responsibility include: American Airlines for corporate identity, aircraft interiors, and facilities furnishing standards; Amtrak for specifications on high speed train sets and for their fleet interior upgrades; Citibank for future electronic banking facilities; Astra Jet, Falcon jet, Learjet and galaxy Aerospace for custom business aircraft interiors; Hyster-Yale Materials Handling Co. for lift trucks and brand identity; Inframetrics, Polaroid and Kodak for cameras and photographic equipment; Freightliner Corporation for truck cab interiors; Southern California Edison for electricity transmission facilities; and New York City Transit for the next generation of subway car interiors.
Internationally, Jim has consulted with the Electricity Commission of New South Wales, Australia on the design of transmission facilities; Israel Aircraft Industries on business aircraft; Eicher Goodearth Ltd. Of New Delhi, India on the interior design of mid-sized commuter busses and Xian Aircraft of China for the interiors of turbo-prop commuter aircraft.
His work for these clients has been recognized by awards and mentions in ID magazine's Annual Design Review, IDEA Excellence Awards and the International Design Yearbook, among others.
Jim has been active in the Industrial Designers Society of America since 1972. He is a Past President, Chairman, and a Fellow of the Society. He has been a guest lecturer on design at Carnegie Mellon University; Cornell University; the University of the Arts; Rhode Island School of Design; Milwaukee Institute of Art and Design; Pratt Institute; the Harvard Business School and Ohio State University. He holds a bachelor's in industrial design from the University of the Arts, 1960.