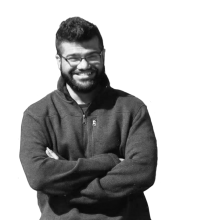 Prasad Joshi, IDSA
Prasad Joshi, IDSA, is a third-year, industrial design graduate student at North Carolina State University. He joined its IDSA Student Chapter in 2015, the same year he arrived in Raleigh, NC from India. Only a couple of years later, Joshi rose to the rank of president of the student chapter.
Now, as NC State prepares to host IDSA's South District Design Conference (SDCC) 2018 from March 23 to 24, Joshi is promoting the event as a great networking opportunity. "SDDC is a great way to meet students from other schools and professionals from the industry," says Joshi. "The connections you make during these conferences can have an impact on your design career."
He adds, "It's an honor to host and we're all extremely excited. For us, it's a chance to welcome a great event where everyone has something positive to take away, and to promote NC State and Raleigh as strong contenders for industrial design in the United States. We will be taking full advantage of the location of this event. I'm definitely expecting a big turnout from NC State faculty as well as students of all years!"
Joshi brings the student perspective to the SDDC planning committee. "I would love to see a platform where students from different schools can connect with each other," he suggests. "Maybe a design challenge where the teams are made up of students from different schools and they get dedicated time of working together to solve the assigned design challenge. I feel it would be a great bonding exercise."