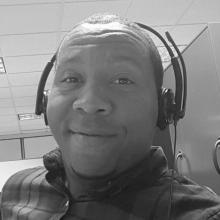 Kirk Morris
I am an Industrial Designer with over 5 years of design experience and an additional 3 years of consulting, blending engineering principles with design thinking. This helps to balance form and function while maintaining focus on the end user.
Prior to designing, I received a BSc Industrial Engineering at the University of the West Indies, beginning a career in operations and maintenance at bp, and then joining IBM as a consultant. Driven by a passion for creativity while in a mainly technical career, I shifted my focus to design.
Returning to school full time, I graduated from SCAD Savannah with MFA Industrial Design. Design experiences include collaborative projects with Kids II, Levolor, Fossil, Remington as well as tutoring and facilitation experience. This along with active involvement in the school community helped my transition into a career in design.
Joining Target following a successful internship, I worked across various categories including: pet care, ornaments, decorative home and outdoor living. I continue to contribute to the success of the product design and development team through empathy for both the guest and factory partners, attention to detail while prioritizing critical design elements, and embracing collaborative knowledge transfer.
I am continuously looking for opportunities to expand my skill set through meaningful design challenges and cross disciplinary partnerships.
http://www.kirkmorrisdesign.com/