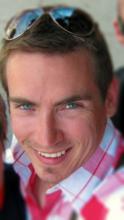 Mr. Robert P Irwin
Robert's got a colorful past, befitting of a design agitator. Before starting his career in Industrial Design he designed his family home at eighteen - the first of four. Finding himself working in the built environment on top LEED designs around the world however, he couldn't help but feel oddly uninspired. It was on the road like Kerouac during a soul-searching journey across the US that Robert first began to wonder whether his heart might belong to sustainability—a designer from the Art Institute of Colorado having designed biomimetic wind turbines, and green practice methodologies winning notoriety from the likes of even the DaVincci Institute.
Returning to Denver with new direction, Robert cut his design teeth at the likes of cofounding re:thought, a sustainability consulting firm before making the jump to the educational experiential side of the Children's Museum as an exhibit designer, the company he would usher into Silver certification by the EPA for green construction and a robust Environmental Management System (EMS) while prototyping exhibits in-house and validating STEM teaching methods through play.
Like many an existential would be designer-founder, Robert left CMD and the world of exhibit design with the desire to use his design skillset to really make some impact. Founding yet another company, Phi Logic imbuing his sights for design-led disruption - Design Through Prosperity.
Robert points out, with the very real relationship between products, health and wellbeing design should play the synergistic role in connecting all of them. Engaging in research from the start that is steeped in human-centered sustainable design-thinking are the two keys to unlocking the techno-centric wasteful shortsightedness that exists in todays design churning.
Phi Logic, the company that he founded, is now gradually growing into one of the most industry-diverse success stories of this century and has to date worked in renewable energy, softgoods, casegoods, furniture, but environment, consumer packaged goods, electronics, toy design, experiential exhibit design, pet products, outdoor gear, landscape design, and social change.
Robert now continues into uncharted territory to leverage design-thinking in the booming movement of tiny homes with, Modern and TINY again acting out of a burning desire to translate his skills (and now over a decade long experience in design) into massive impact.
Robert's Education
Undergraduate
Art Institute of Colorado
Industrial Design
BA
2005
Graduate
Stanford Center for Professional Development
Design
Industrial Design
2015
Robert's Skills
Robert's Interests