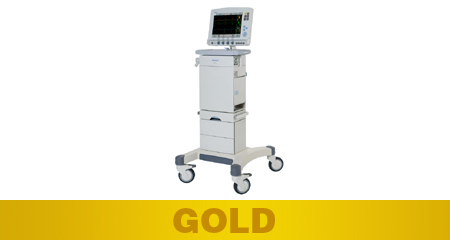 Mechanical ventilators are essential in today's intensive care units, functioning as life support for patients who cannot breathe on their own. Servo-i's development was driven solely by user needs, a new direction for a company that had been quite technology driven.
The most important task was to design a ventilator that is easy to use with a focus on the clinician and the patient, not on the machine. The user-friendly design has made healthcare professionals more confident when operating the ventilator, decreasing their stress in the critical environment of an intensive care unit. Servo-i is also less intimidating for the patient and, often more importantly, for visiting family members.
Servo-i adapts to the clinician's changing needs. It can be placed in different positions, such as on the bed, on a cart or on a pillar. Its modular platform can be customized to meet the varying needs of neonatal, pediatric, adult and other intensive-care patients. Such a modular platform alleviates the need for a hospital to invest in multiple devices. When a patient is being transported, Servo-i is able to maintain quality treatment, reducing the risk to the patient's health.
Its ease of training, operation and maintenance as well as flexibility and modularity ensures a low-cost life cycle. Upgrading is easy: software options and add-on modules add functionality to ensure that any treatment requirements can be met. Upgrades are 100 percent backward compatible.
When Servo-i was introduced, the company was a market follower. Today it's a market leader in mechanical ventilation. The Servo-i has helped the company increased its market share.
Credit: David Crafoord, Daniel Höglund and Thomas Nilsson of Ergonomidesign (Sweden) for Maquet (Sweden)
Contact: Ines Cuvelier: ines.cuvelier@ergonomidesign.com