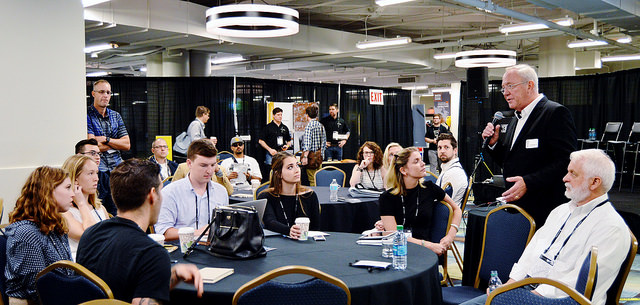 The IDSA Career Center returns to the International Design Conference—this time on Thurs., Aug. 17 at the Atlanta Marriot Marquis. After all, Design IS Business is theme of the IDSA International Design Conference 2017.
RSVP now to participate in the Career Center, where designers of all experience levels can get the boost they need to start a career; transition to a higher or a new position or graduate school; solidify their design skills at hands-on workshops; meet IDSA leadership; and much more. And you don't have to be in the job market to participate. Keeping your resume and portfolio polished is critical to moving quickly when new opportunities arise!
The Career Center kicks off with a networking lunch, followed by Sketch Aerobics™ with Jose Gamboa, IDSA, and simulation and material analysis in design with Jeff Smith, IDSA, of Autodesk. Then, the ever popular Portfolio Review, where professionals take a closer look and offer advice on putting your best work forward. Here's the schedule:
12pm              Networking Lunch
1 – 1:45pm     Sketch Aerobics™, Jose Gamboa, IDSA, Hatch Development 
2 – 2:45pm     Finite Element Analysis (FEA), Jeff Smith, IDSA, Autodesk
2:45 – 3pm     Networking Break
3 – 4:30pm     Portfolio Review
Also at the IDSA Career Center—tables featuring recruitment information from prominent design firms, companies and graduate school programs. If your firm, company or graduate school is interested, contact IDSA.