IDSA International Design Conference 2017: Design IS Business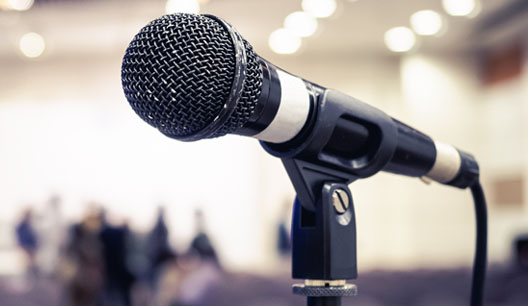 Thank you in advance for your consideration of our Call for Speakers to the IDSA International Design Conference 2017: Design IS Business, set for Aug. 16–19 in Atlanta. I know firsthand the time and energy necessary to invest in a conference presentation—even more, to spread passion from the stage and be an active part of our industrial design community.
But first things first. You must have sat through numerous presentations, thinking to yourself, "Not another sales pitch!" or "Not another corporate generic presentation!"—or the most dreaded—"Not another talk about yourself!" Such a talk doesn't make the audience happy; push the boundaries of what will be a remarkable event; or deliver the promise the conference makes to the audience.
We're looking for spirited people who sincerely want to invest time in research—and design a presentation to amaze and inspire our audience with a fresh vantage point, new perspectives, intriguing insights and stories of overcoming innovation barriers and perhaps more. How are you preparing yourself for the future? We want high enthusiasm and meaningful content on the International Design Conference platform. If you can dazzle the design leaders and managers in our audience, we would love to see your proposals—and potentially you on the grand stage.
Here's how it will work. You get the main stage. There are no breakouts this year—making this a high stakes proposition. You get to speak to the entire conference with no distractions!
Early morning time slots: Traditional, 15–20 min. + moderated Q & A
Mid-afternoon time slots: Rapid Fire, 8 min.
Another uncompromising need—time management. If speaking time is not monitored, presenters at the end of the day are shortchanged. We need to assure that all the speakers get the same time. We expect that you rehearse and time your presentation in the weeks before you arrive. Send your average time to us one week before the conference.
We will: compare and contrast the vast number of incoming proposals with the conference theme Design IS Business; overall relevance; how it complements the program for that day; and how unique and original the content promises to be—among other criteria. I'm aiming to make this conference memorable to all stakeholders with this sincere approach to curate the experience. Please feel free to email any questions to me that you may have about the narrative. Let's build the rhythm of our conference together for a remarkable event. 
The submission deadline is Feb. 28, 2017. Speaker will be offered a special discounted speaker registration fee to the conference. You will be asked to sign a speaker agreement and content release, an example of which can be found here. Once alerted of your speaking time slot, you will be asked to send in a timely manner your bio, headshot and session description for posting to the conference website. IDSA stands to cancel any selection of speaker, if the needed documents, signed forms or bio/photo are not submitted in a timely manner.
Jeevak Badve, IDSA
Chair, IDSA International Design Conference 2017
Vice President, Strategic Growth, Sundberg Ferar
Jeevak@sundbergferar.com