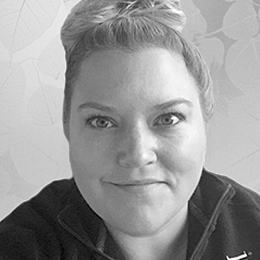 Katie Fleger
Senior Manager of Conferences
katief@idsa.org
703.707.6000 x104
Katie Fleger joined IDSA in 2010 as the member relations manager, and in less than a year, moved up to director of business development. In 2014, she was named senior manager of conferences, traveling to and managing IDSA's International Design Conference, five District Design Conferences, Medical Design Conferenece, Women+Design Confernece and Board of Directors meetings.
Previously, Fleger worked as an advertising coordinator and then as a sales associate at The Wall Street Journal, where she sold advertising to luxury and retail clients in the New York tri-state area; served as the primary liaison among media buyers, print negotiators, creative agencies and internal ad services; and developed marketing strategies to promote added value opportunities for new and existing clients. She also had the opportunity to be part of the team that in 2008, launched WSJ, a luxury glossy news and lifestyle monthly magazine published by The Wall Street Journal. 
Fleger earned a bachelor's degree from the School of Business at George Mason University near the nation's capital. The Herndon, Va. native makes time to support her alma mater, Herndon High School, and enjoys taking in Broadway shows in the Big Apple (and collecting playbills).