IDSA is dedicated to professional development of industrial designers and advancing the field.
Follow the legacy of Loewy, Dreyfuss, Teague and Eames and enter the world of contemporaries such as Karim Rashid, Yves Behar and Jony Ive as well as your peers in the United States and around the globe. Membership starts here.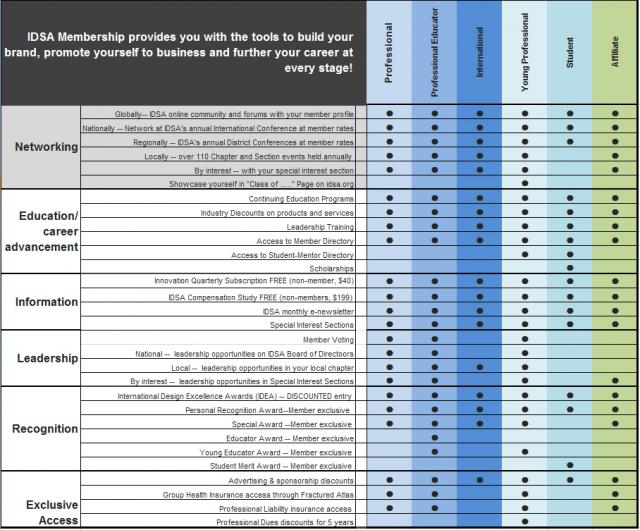 If you are having trouble viewing this chart, please download the PDF below.
Membership Categories

Professional (US) - $375
Available to any citizen or resident of North America who has at least an undergraduate degree in industrial design or a related design discipline, and/or appropriate professional experience, and whose primary professional responsibility as a practitioner or educator is the industrial design of products, instruments, equipment, packages, transportation, environments, information systems or related design services.
Professional (International) - $375
International Membership shall be available to any designer who is neither a citizen nor a resident in North America. Foreign nationals who are degreed designers are eligible to hold IDSA Professional Membership status, with all the voting rights, during the term of their residence in the United States.
Young Professional (Year 1 post graduation) - $125
Available to young professionals for the first year following graduation.
Young Professional (Years 2 - 5 post graduation) - $250 per year
Available to young professionals for the second through fifth years following graduation.
Student (US) - $50
Open to any student in an undergraduate or graduate program in North America. They may identify themselves as "Student Member, IDSA." They may neither vote nor be elected as Officers or Chapter Officers.
Affiliate - $375
Open to any non-student professional who does not hold a degree in industrial or a related design field. This may include marketing, communication, and other non-designers working for design firms, consultancies or other corporations.
Life
Life membership shall be available to any individual retired from active design practice who has been a professional member of the society for ten or more consecutive years.
Join today! If you would prefer to print and fill in the application form, please click on the appropriate link below for the form that applies to you.
Professional and Affiliate Application Student (US) Application Student (Int'l) Application
Member Login
Use the Login block to the right, then select MYIDSA to access member benefits. You may also Login here. Use this link if you have forgotten your password.
Become a MemberReady to join? The first steps towards membership online is to create a login. Then go to the Online Store and select "Membership" from the dropdown menu and hit the "Go" button or use this link.
There is no fee charged at this stage for Professional, International, or Young Professional membership. Following review of your application, you will be notified by email and sent a link to provide payment for your membership. Membership becomes effective following receipt of payment.
New or Renewing Memberships
This secure site allows you to join or renew your IDSA membership. By joining/renewing, you will be able to take advantage of the benefits IDSA membership offers, including special discounts on event registration and publications as well as access to health insurance, special members-only content and much, much more. Follow the instructions below to get started.
If you are an existing member and need to renew, just login and click on the MYIDSA link to access the Member Portal to manage your membership. Your login name is your primary email address. If you have forgotten your password you can go here to reset it.
If at any time you need assistance, contact the IDSA Membership Department at 703.707.6000 during regular business hours (9-5 EST, M-F) or email jillr@idsa.org.