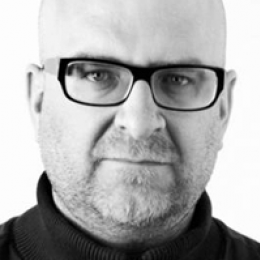 John Barratt, IDSA | Chair Emeritus, Board of Directors
President & CEO, TEAGUE
IDSA Board Chair 2015-2017
IDSA Board Chair-Elect 2014
IDSA Board At-Large Director 2011
John Barratt, IDSA, is president and CEO of legendary design consultancy TEAGUE. Founded in 1926 by design industry icon Walter Dorwin Teague, TEAGUE is considered the most established design consultancy in the world. For nearly two decades, Barratt has dedicated his time to building on TEAGUE's heritage; strengthening TEAGUE's partnerships with some of the world's leading brands including Boeing, Microsoft, Samsung and Intel; and pushing TEAGUE's longstanding mission "to build a new and better world" into the 21st century.
Barratt began his career in 1990, working as a product designer at Exatiss Concept in Paris. After nearly five years of exhausting hours, exhausting clients, a few design awards and 2,400 hours in the Parisian Metro, he moved on to Philips Design in Holland. There he had the great fortune to work under the direction of Stefano Marzano, building and leading design teams that embodied poetic design, articulate and passionate creative direction and a missionary zeal to exceed expectations.
Spending five years at Philips, he held leading positions in the Hong Kong, Eindhoven and New York studios. In his final role as strategic design manager, he established and implemented a coherent brand language across Philips' ranges of telecommunication products and initiated, mentored and implemented a future-focused ideation process for the burgeoning mobile phone market. Barratt's global experience in both operational and strategic roles at Philips Design facilitated his move to TEAGUE in 1999.
Barratt earned his master's degree in industrial design from Leicester Polytechnic in the United Kingdom after receiving a bachelor's degree in three-dimensional design from Teesside Polytechnic, also in the UK.
 
Recognition
Under Barratt's direction, TEAGUE's contributions to design have been honored with multiple International Design Excellence Awards, Red Dot, Good Design and iF awards. In 2006, the company was presented with Design Management Instittute's Design Management Team of the Year Award.
 
Judging (recent)
IDEA, Chair 2010
IDEA, Brazil 2010
Australian International Design Awards 2010
Spark Award 2010
IDEA 2009
ID Magazine Annual Design Review 2008
Presentations (partial list)
2010 APDF Exchange
2009 DMI Design Leadership Series
2008 IDSA International Design Conference
2007 ICSID/IDSA Connecting World Congress
2007 IDSA Spotlight Series
2007 IDSA Midwest District Design Conference
2007 MSI Service Innovation by Design
2006 IDSA International Design Conference
2006 DMI Design Management Conference
2004 APDF Exchange
2002 IDSA NWDI
2002 AMA