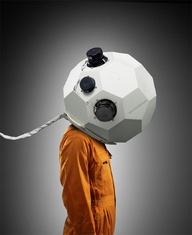 Q&A with Michael Kim, Art Center College of Design

Sometimes, a design comes along with the express purpose of disrupting everything you think you know regarding what is possible (and logical) about a particular experience. DIGIFI: Audionauts is such a design. We talked briefly with designer Michael Kim about his motives and his process:

This is an audacious piece of work. What inspired the project?

DIGIFI was inspired by my obsession for spatial experiences and how efficient speakers can be at "setting the mood" while being the least celebrated object in the room.

You're designing a cause as much as you are an object. Does this object represent an opening statement for the cause or its closing argument?

As an opening statement, it's audacious and intriguing. It draws interest or disbelief and generates conversation. I tried to make sure that the object was substance-driven and applied as much audiophile technical values into its construction as I could. It is functional as much as it is symbolic. If you experience it, you should get a clearer perspective of the cause.

How did you arrive at the form factor?

It is well-researched that the ideal acoustic enclosure is spherical but manufacturing a sphere from an acoustically ideal material would be very wasteful and subtractive. The speakers and LCD screen also required a flat plane to be mounted on so a compromise was reached by using a truncated icosahedron, which is essentially a low resolution sphere.

In what ways did you experiment with different materials to support an environment that would produce the highest fidelity sound?

Originally, I tried to use a hardwood but it proved to be too heavy, too costly, and it warped under humidity so I used MDF, which is an industry standard as an acoustic material and very consistent.

What kind of music or sounds did you use to test the audio fidelity of the helmet?

I used .FLAC loseless audio files from the B&W online library, which includes a variety of contemporary classical tracks. I have learned that audio quality is a very subjective preference so the helmet has been tuned to my ears.

What ergonomic challenges did you face in creating this experience?

The spherical shape had no trouble cradling the users head but with six speakers and an LCD screen, I knew weight would always be an issue. In order to "hide" its weight, the positioning of the speakers distribute weight over the users shoulders the same way an aluminum frame does in a camping backpack.

Which group of users was most involved in shaping this design: the people making the music or the people consuming it?

The helmet's main purpose was to excite a younger demographic and create a perspective shift towards hi-fi but that's not to say the end goal wasn't to increase appreciation for the artists that create the music.