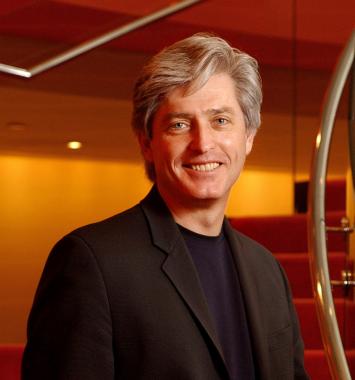 As founder and CEO of Metaphase Design Group, Bryce Rutter, Ph.D., IDSA has built a research, ergonomics & design innovation and business strategy firm that has special expertise in the fields of handheld product design and physical & cognitive ergonomics. Metaphase, an IDSA Patron, has demonstrated thought leadership via its work for clients like Sony, Pfizer, Microsoft, Dell, LG, Gatorade, Kraft, Kellogg's, McDonald's, Rubbermaid, John Deer, Bayer and Revlon. Notably, Bryce and his firm have taken a leadership role in ReDefined Ergonomics™ and bringing The Dignity Factor™ to the design of commercial and home care medical products.
In this Q&A, we talked with Rutter about how Metaphase engages with clients, how he uses storytelling as a design device and one large opportunity for the design community.
If you are a member and would like to participate in "The Questions" series, please contact tima@idsa.org
Read all about designs success stories in the IDSA Catalyst Design Case Studies.
Do you view your work more in terms of creating culture or creating value for business?
I don't think creating value or culture are mutually exclusive. Fundamentally design solutions need to be viewed as business solutions that drive shareholder value and brand equity. Our primary goal when partnering with our clients is to create design solutions that take into account the context of their business and their vision of how they want to grow revenues and expand market share. We need to clearly understand not just the competitive landscape itself but how it came to be—what trends are in play, what legacy factors shape consumer attitudes today and more generally the complexion of the market today. As part of this design process we will also develop a detailed understanding of the culture of the product, the consumer and the brand itself. Collectively these factors provide key contextual insights that inform our design process, provide metrics for benchmarking future change and key insights that focus the business and innovation strategy we need to pursue to develop profitable design solutions. I do not believe that you can you can create shareholder value without developing products that make an emotional connection. Creating a unique and ownable consumer brand experience builds power brands, customer loyalty and long-term growth.
How do you translate the design process and its value for any audience that is unfamiliar with design?
I use the analogy of storytelling. We start each project by developing a project code name that symbolizes what we want to try to achieve. For example, a recent project called Leapfrog symbolized to the team our need to create a paradigm shifting design solution that would leapfrog the competition. Similarly we code-named another project "Touch" that symbolized the need to develop a design that had a unique and ownable kinesthetic signature. With this framework I then start to explain the design process not unlike chapters in a book. As part of this technique I introduce the cast of characters and show how they interact and not unlike any story where you have leading and supporting actor roles, noting that poor performance by any individual actor leads to a bad movie, or in our case a substandard design solution. This storytelling strategy allows you to set the stage and systematically describe the story line (the design challenge), the characters (designers, engineers, marketers, brand people, etc.) and how they come together to create a fascinating and compelling story–a great innovative design.
What consumer (or human) problem offers the greatest opportunities for designers to demonstrate our discipline's value?
The biggest opportunity for our design community is to humanize health care technology. For any of us who are watching their parents' age it's disheartening to see the limited selection of products that are available to them that do not carry an obvious and strong stigma reminding our mom and dad that they are reaching the end of their journey. Similarly for any of us who spent time in the hospital it is clearly obvious that the human factor is being more ignored than addressed. Dignity is the right of every human being. There is absolutely no reason why medical devices and home healthcare products need to be cold, sterile, inhumane and dysfunctional.
If you are a member and would like to participate in "The Questions" series, please contact tima@idsa.org
Read all about designs success stories in the IDSA Catalyst Design Case Studies.