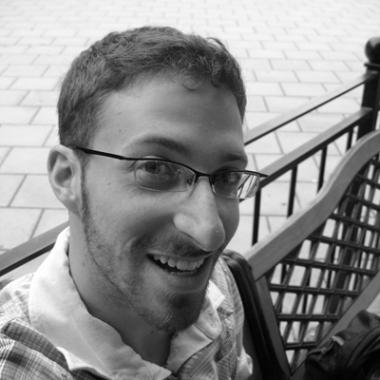 Some designers begin their design careers very early. But few get their start while they're still wearing diapers. Asher Dunn is one of those few. The founder of Keeseh Studios reveals a bit more of his own life story and discusses a new way to build a collaborative design environment.
MARCH 2009 -Asher Dunn, originally from Bloomfield Hills, MI, launched his design career early. Very early. (As a toddler, according to his parents.)  Less than a year after completing his undergraduate studies at RISD, he founded Keeseh Studios and made a home in Pawtucket, RI, where he enjoys kayaking, sledding and going on adventures, when not engaged in one of his many design endeavors.
How did you end up working in design?
My design career started when I was one year old and my parents caught me dismantling toys to see how they were assembled and how the batteries fit. I quickly learned that if I kept this up, I was not going to get new toys. So I expanded my focus and at 18 months old they caught me once again, this time on camera, taking apart our home's ventilation system with my Sesame Street screwdriver set.  It was all downhill from there; I've been intrigued by issues of function, design and problem solving ever since.
I have to give my parents a lot of credit. They encouraged me to pursue my interest in art and design. Toward the end of high school I thought I was going to pursue engineering when one of my teachers pulled my parents aside and said, "He has what it takes to do amazing things in design." My parents had the foresight to take the advice and encourage me to learn more about the design field and pursue that as the best combination of art and engineering.
I attended the Rhode Island School of Design (RISD) and received a great education, graduating in the spring of 2008 with a BFA in industrial design.
What creative disciplines other than ID do you have a background in? How do those skills influence or impact your ID work?
I took advantage of all the opportunities offered at RISD. I took the maximum number of allowed classes every semester and then audited a few in addition because they have a limit on how many you are allowed to take for credit at one time. In additional to my industrial design courses, I completed courses in furniture design, woodworking, metalworking, glasswork, jewelry design and fabrication, textiles, printmaking, fashion design, ceramics, business and education.
Because of the selection of disciplines that I've chosen to follow, I find myself designing with a very hands-on approach. I sketch basic ideas of my designs but then very quickly jump into experimentation with materials and forms. More innovation occurs when I'm working with my hands rather than working on paper.
Having a vast knowledge of materials and how they interact with one another is important when working with clients and manufacturers. A designer should be able to instill confidence that he/she knows not only how the materials will interact but also how they will degrade over time, affect the environment and continue to be culturally relevant.
Tell us about Keeseh Studios. What is it? What inspired you to launch it?
 Keeseh Studio is a design firm for freelance designers. We have a prototyping and fabrication shop which provides machinery, equipment and workspace that local artists and designers rent using something resembling a membership system.  This gives freelance designers access to capabilities, resources and a community of others with whom to share their ideas and gain critiques. Members can access the studio whenever they wish in order to pursue their projects, and work at their own pace. The studio also provides designers with a business address, the option to display their work on Keeseh's web site and the use of the studio's reputation. Through its designers, we have forged tight bonds with manufacturers, vendors, clients, the other tenant businesses in our building and the surrounding communities of Pawtucket and Providence.
I conceived of Keeseh Studio during the summer of 2007 while interning in California. I was interested in being a freelance designer but still wanted to work in a community that inspires and stimulates creativity. This creative energy often comes from working around people who are as enthusiastic about their work as you are, similar to the environment that I experienced while at RISD. At the time, I was working at a furniture design company that shared a building with a fitness center. It dawned on me that I could mix a fitness center business plan with a design firm business plan; bring in new business, distribute the business among the members and let the people that do the work reap the benefits and gain recognition and visibility, while creating the inspirational community that I and others crave for their work environment.
 It's an exciting place to work. The participants are a mix of recent graduates, professors, professionals and hobbyists. We are continually enhancing the work environment, equipment, quality of interactions and web presence. We're in the process of bringing in new designers, adding more tools and machinery, and building our client base.
As Keeseh grows rapidly, our spring plans are to gain additional space and add metalworking, ceramics and plastics to the mix. We're also talking about a CNC router that would bring productivity and the studio's overall capabilities to another level.
Could Keeseh evolve to become its own ID firm or do you intend to sustain it as a workspace for designers?
The goal is to have Keeseh evolve as both, and so far both are evolving well together.  Our members have a passion and honesty towards design; we share, discuss and challenge each other's concepts and approaches, helping one another realize new and innovative ideas.  We expand each other's knowledge of materials, engineering, vendors, manufacturing and so on.  Even though a client may be communicating with only one member of Keeseh, it is as if the client has received the services of the entire collaborative, and all of  our individual sources and connections have contributed towards the resulting design(s).
How does collaboration happen at Keeseh? What are some of the projects that are coming out of the studio?
Collaboration is the result of bold fearlessness! It is not easy to start a new business in this economic climate. Our collaborations need to extend beyond our walls to include our manufacturers, clients, vendors and friends. By taking a risk and sharing ideas with others you're increasing your knowledge base, exchange of information and the possible number of ideas or concepts that will result. 
At Keeseh, we encourage this collaboration and exchange of information. Our members have boldly approached both small and large companies, with no previous internal contacts at these companies, and pitched their ideas successfully. It's necessary to take the risk, because in the worst-case scenario, you are rejected and have to take your idea(s) somewhere else.  Best case, you get your foot in the door and a world of previously unavailable opportunities open for you. Rejection is hard but we have to risk it to succeed.
We are currently juggling a number of collaborative projects. I can't give specifics on some of the projects because of the obligations of the contracts. I can tell you that we are working with material engineers and getting the chance to design with materials that nobody else can touch yet.  We're working with both domestic and international companies developing sustainable designs and manufacturing plans that will withstand the stresses of the current market. We're working with other businesses and individuals in our building to develop new patentable technologies and barter services. We're spending time at our manufacturers' facilities building what we hope are lasting connections and better understanding their capabilities and limitations.  We're assisting each other in studio on projects and linking one another with resources needed to pursue projects. We're working with clients on custom pieces. We're working with students at Brown University to develop a human powered vehicle. We are providing internship opportunities, and we're providing space for local guilds and organizations to meet and hold material and fabrication demonstrations.
 We like to get our hands dirty and keep our plates full.  We are always open to new ideas and love pursuing things that haven't been done yet.  We have a few more memberships available and we're looking for two interns for this summer: a furniture designer and graphic designer. For anyone interested, details can be found on our web site: www.keesehstudio.com.
Do you have it in mind to scale Keeseh or franchise the concept to other locations?
I would personally like to see it grow, with increased members, square footage and capabilities. We are not thinking about other locations or franchising at the present time because we are dedicated to making the concept work in our current community. If this is viable and transferable to other communities, we might consider helping others via franchising.
Speaking of Brown, what involvement have you had with Better X Design (BxD)? What is your role with BxD?
Better X Design summons change for a better world. Keeseh Studio got involved with BxD before it even had a name. A group of students involved in Engineers Without Borders approached me after I had been a student organizer for an IDSA conference and honored us by asking our advice about organizing a conference. We assisted them in organizing the A Better World By Design conference—good speakers, good turnout, great success!  We hosted the Friday night mixer at which we were able to announce the winner (and exhibit the leading entries) of an international design competition, called Make Some Green, that Keeseh organized prior to getting involved with the conference. 
BxD has been busy continuing to organize themselves for the past several months. They continue to blog relevant events, gain partners and organize lectures. I expect it to continue on its arc of achievement. My personal hope is also to see BxD building strong bridges between Brown and RISD. Collaborative work between designers and engineers is an obvious match—building these bonds during the college experience makes sense. These two communities are adjacent physically. They can help each other educationally and professionally.
Can you share some of your impressions from the BxD conference? What were some of your takeaways?
I spent much of the conference helping with organizing so I did not get to actually attend as much of the conference as I would have liked.  I can say that the speakers I heard were individuals who have made a difference by creating change.  Some days, we feel we can't change the world, but many of the speakers have done just that.  So my "takeaway" was that problems and issues give us opportunity.  We just need the inspiration, drive and stamina to make it happen.  And hopefully we will.
What are your own personal design aspirations?
I always want to be educating myself, not only through those around me, courses and conferences, but also through trying new things and allowing myself to see the world from different points of view.
I aspire to make each year better and more exciting than the previous one. When I'm asked, "What were the best years of my life?" or "When did you create your best work?" I want to be able to say, "The most recent ones!"
Who/what are your sources of design inspiration?
Calvin and Hobbes comic books, written and illustrated by Bill Watterson, have probably inspired me more times than any other book.  The comic strips are always full of energy and imagination.
I also get inspiration from everything and everywhere, however. My mind seems to always perceive my environment through a design perspective. I can't help it.
What are your favorite design books or web site distractions?
Where do you see design going in the near-term future?
I saw a quote the other day that summed it up nicely: "The precipice is full of possibilities."
We're in a heightened sense of caution and worry, the economy is unsteady, the job market is suffering and people are careful about how they will spend their money. Under these circumstances, innovative designs emerge.
Designers have to be more creative and find new niches, new materials and new ways to be relevant. A designer's cultural awareness will have to improve in order to keep his/her job from being replaced or farmed out to less expensive researchers and designers in other country.
Sustainability will become a necessity, not just a concern, in personal lifestyle as well as in business. Collaboration and sharing will replace corporate secrecy, and those corporations stuck in their ways will be forced to merge in order to stay afloat. We're moving forward quickly, which means we need to constantly be educating ourselves and incorporating new thought and technology into our approaches and predict and discuss what's next.
What should the design infrastructure do to help guide that future in a way that benefits the profession and those who practice it?
It is the responsibility of design schools and design-related organizations to give designers the tools to practice the profession as well as provide the means, forums and education to update these tools as the times change. Design schools do a great job of educating students about research, design, function, aesthetics, sustainability, drawing and computer programs. These comprise the craft of industrial design but not the art. The art revolves around communication such as networking, the right and wrong ways to communicate with manufacturers and clients, how to defend your ideas rather than your own ego, how to handle interviews, etc. This specific set of skills cannot be taught but can only be learned when placed in settings where they can be applied and you can learn from your successes and mistakes.
I would have liked if the professors had made design conferences, job interviews and collaborations with manufacturers, clients and vendors mandatory, yet not organized by the school. Students would have to seek these opportunities out for credit. Imagine the readiness of students graduating from such circumstances to be on their own, to self initiate, to seek out opportunities, to be leaders.
What is the biggest challenge that every designer needs to overcome today?
Being able to say "no." We want to be involved in everything and we have a knack for saying "yes" to all the opportunities that come our way. I mean, it makes sense; exciting things are happening and we want to be part of it!  But if you take too much onto your plate at one time it compromises all the work coming out, your friendships, health and eventually, happiness.
Thus far, what have you taken away from your IDSA experience?
I haven't been a member for long, and overall, IDSA has been great for me. Our Rhode Island chapter chair, Matt Grigsby, also one of the partners at Ecolect, has a keen sense for leadership and assembling people around common interests. I've made new friends and business contacts and have a good time at the events.
What three things would you most like to see IDSA do differently?