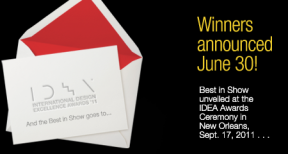 IDEA 2011 Winners Selected! To see the IDEA 2011 winners, click here. In the field of design there are many competitions, but only the International Design Excellence Awards (IDEA) is recognized as the preeminent international...
DULLES, Va., May 19, 2011 – Fast Company, Dow Corning, Microsoft and The Henry Ford are partnering with the Industrial Designer Society of America (IDSA) for its 2011 International Design Excellence Awards (IDEA®) program.
Due to an overwhelming response in entries, IDSA and jury chair Davin Stowell, IDSA appointed three new members to the jury, all of them are IDSA members. The new jurors are: Ed Dorsa, IDSA of Virginia Tech Carrie Russell, IDSA of Procter...
Spread the news. The whole design world is entering IDEA. Don't be left behind!Download our new 11'x17" IDEA poster to share with colleagues in your office or classroom.P.S. submit your IDEA entries before the Jan. 28 deadline.
Entering the IDEA Awards is ALWAYS a great opportunity to receive unparalleled international exposure. BUT, enter and pay for your 2011 IDEA entry by midnight EST Jan. 21 and you get EVEN MORE!
Most of the IDEA 2011 entry documentation has been translated into Chinese and is presented in a series of convenient PDF documents with instructions in both English and Chinese.These documents are listed below and can also be found as...