Q&A with Omer Haciomeroglu, product & concept designer, Umea Institute of Design

Firefighting is a noble profession. It's also an experience that is particularly difficult to design for as some of the most noble and brilliant concepts are also quite difficult to commercialize. One concept the IDEA 2012 jury found to be quite brilliant, C-thru Smike Diving Helmet, addresses the need to provide better visibility for navigating dark, smoky, treacherous environments. We talked with the designer about the difficult path he's begun to navigate:

Why doesn't a solution like this helmet already exist? The problems it solves seem to be in desperate need of a remedy. What prevented an idea like this from materializing until now?

Well, as a designer, I see there is a lack of solution strategy in the business. Many of the existing design firms are in need of proper strategy, and they focus on putting a new product on the market rather than finding areas with problems, solving the problems and finally, coming up with a new product that will have a place on the market. The technical equipment industry is one of the few exceptions in this aspect. In the technical equipment world, the product on the market has to work! There is no way around it. However, there is this simple reality to the finances of the business and the market. That is, budget and profit.

A product like mine would require strategic product development by a proper team of engineers, designers, strategists and researchers, which equals a large investment. If you are a company that already has a product pipeline, say, in protective helmet industry, you would want to maintain that pipeline and facilities. If you needed to come up with a new product, you would first consider the means available to you. This, accompanied by competition and spiced up with a limited budget, lures companies towards trying to add new products to the market with no real background or value. Just a few improvements here and there, that's all. Sometimes, there are advancements in material technologies that will let you get a better grasp of your current facilities or make minor adjustments to it, but even this will improve the quality of your end products only slightly.

My approach usually takes either a large budget from a powerful investor or a company with a real future vision, which assumes social and environmental responsibility, and dedication on the developer team's side. With the current profit-based systems, which the whole world runs, I doubt such a thing exists within medium- and small-scale enterprises.

Another problem that delays the presentation of new innovations to the market is the higher cost of new technologies. It generally takes a few years for any technological advance to become affordable for the market. The technologies I have proposed for C-Thru, for instance, cloud computing, heads-up projection, noise cancelling, wireless transmission etc. were already in use. However, when I proposed them just three years ago in 2009, they sounded a little farfetched, or potentially too expensive. Yet, cloud technology has now started to be embedded and heads-up displays are getting more common, and so on. Technology becomes more accessible and cheaper, which has been the case for the last 50 years.

Tell us about your user research. Was it immersive? Interrogatory? Both?

Well, the research was pretty intense. First of all, I had the opportunity to work with my user group in one-on-one. Moreover, I was able to experience simulations and training programs in order to understand their motivation. I, with a couple of my colleagues, even had the chance to sleep over at the brigade so that we could catch them in action, see the real thing. It is one thing to estimate how they work and under which conditions they perform the rescue missions, but it's another thing to live through it. It was only a bunch of simulations in my case but even that helped. Suited up with the same equipment and gear, trying to lift a real weight doll in pitch darkness, feeling heat of the simulated fire and seeing the flames lick their way out of the roof of the container through the mask's visor. One of my colleagues even got his visor partially melted because he got too close.

I did interviews as well. I talked to a lot of people, including senior firefighters, who were in the service for over 35 years, beginner firefighters, who were just realizing it was the real thing. It was a really good research experience to see the diversity of experience involved. We also took a lot of pictures and videos.

When you're envisioning a near-future solution like this, how do you know when you've gone too far? More to the point, how do you know when you've reached the limit of technology that is reasonably achievable?

I don't believe in such a thing as ''too far.'' We human beings are a species of great capacity. That is how we were designed. Our imagination is the sole limit. The whole process of envisioning the future requires dedication and patience. History shows us that sooner or later we achieve the next step. I usually do research then analyze the whole subject extensively. I spot problems and then brainstorm towards the most logical and feasible and the simplest solution. Technology has not failed me so far. The technology we need sometimes may not be what we want it to be, but, as designers, we are educated to link and knit the strings together to weave something new and better. Since the dawn of science, you see the progress on various branches of scientific development, giving birth to new technologies. You can pretty much foresee what is going to come next, more or less at least. I find that it is becoming more and more predictable every day. Just keep on feeding yourself with knowledge and never let go of your imagination. That is how I know.

The only time I would use the phrase ''too far'' is when the topic concerns an audience with which the ideas will be shared. Our society is well trained to think analytically. We are trained to take physical references. So, if the audience has difficulty relating to the idea because it is something more conceptual than usual, people take a defense stance and they either deny or ignore it. Therefore, I only restrain myself when I need to communicate an idea through something physically more familiar to the audience. It makes the idea much more acceptable. Once you get hold of the audience, you can always talk your crazy, so called farfetched ideas over and make them believe as you do. That is the only time, I believe, when you have to limit your expressions of any kind concerning design and philosophy.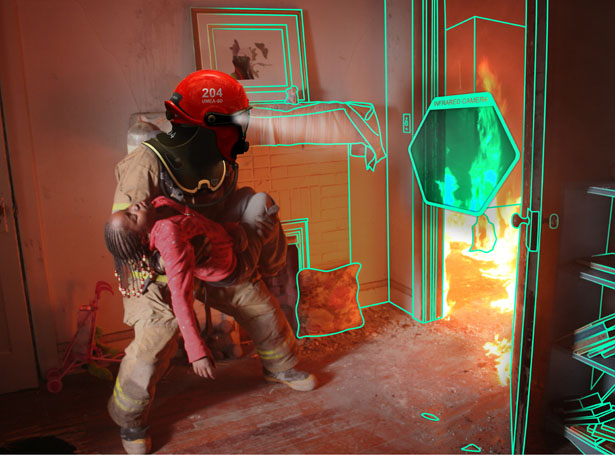 What challenges did you face in integrating the various technologies this would employ?

Everything was there, really. All I had to do was to search for the right technologies that would allow me to solve the problem, use the necessary ones and put them together in a single unified shell. The true challenge now is to make it cheap, simple and applicable and that's what I am working on now regarding refinement of the project. But it has worked well on concept level.

Apart from the Umea Fire Brigade, what do other firefighters think of the idea?

They absolutely approve and support the idea. I have been receiving emails from around the world, including countries like the USA, Philippines, Spain and Brazil. All firefighters and brigade chiefs are either thanking me or asking to purchase, assuming that C-Thru is available on the market. Some are asking me to send samples, some asking me to donate a few. Seeing the true heroes excited—the firefighters around the globe—is making me really happy.

Have you prototyped this concept?

No, not yet.

What's the likelihood of it becoming a product?

Numerous global companies and foundations—not to mention firefighters around the world—have contacted me, and I have decided to take the next step and put C-Thru in the market. A prototype will possibly be a part of the development process.