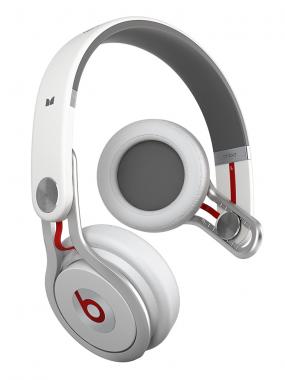 Q&A with Adam Fleming, marketing manager, Ammunition

In a very short time, Beats by Dr. Dre headphones have become a category-defining icon. You might wonder what opportunities remain for the designers at Ammunition who shape the Beats experience. As it turns out, they seized two rather important opportunities on their way to IDEA gold: designing for professional DJs and creating a wireless Beats product. We got some insight on how Ammunition delivered each of those solutions:

Why was the Beats Mixr necessary?

There was a need for more balanced sound, durability, light weight, passive drivers and other features DJ's desire.

What element of the sound output was most difficult to achieve in order to meet the standards of professional DJs?

The main thing is that DJ's work in an environment with an immense sound pressure level. We needed to build a highly efficient, passive headphone that could perform in this environment to the highest standard of sound quality. In addition, DJ's live in sound so they are not only very demanding as to how the bottom end moves but also need clear definition and imaging in the mids and top. DJ's know sound. It had to be true and authentic.

Can you talk about the usability testing that went into Beats Mixr?

Mostly we simply provided David Guetta and other DJs with working pre-production units to get their feedback

To what degree did DJs ask for Beats Mixr to be designed to prevent or accommodate perspiration?

It has to do with usage. Night after night, for hours at time. So the materials and design needed to address sweat and related comfort issues.

Tell us about designing for cable management. What's the benefit of a 6-foot cable?

Most DJs require a 6-foot or longer cable to be able to work freely. In addition, we allow the DJ to plug the cable on either side of the head, and also to daisy chain multiple headsets together. Most importantly, the cable is highly durable and of a heavier than normal gauge

What insights shaped the way the Beats Mixr headphones were designed to be maintained after and between usage?

Simple, compact storage was the main requirement.

For the Beats Wireless, eliminating the cord is a pretty major accomplishment. Did you have to make any design concessions to achieve that?

The biggest issue was fitting radio and batteries inside without becoming too large. This was the focus.

Does eliminating the cord change the manufacturing process?

Not really, other than building more hardware inside the headphone which makes the design and assembly more complex

Did the ergonomics of the Beats Wireless headphones change much after removing the cable?

The emphasis was on keeping them small and the weight down. Otherwise it is very similar to a traditional headphone, which we felt was important

When conducting research for the Beats Wireless, which user group was most integral to advancing the Beats brand?

Mostly people who travel a lot and those who exercise with headphones. These are the primary people we were interested in.